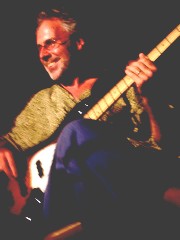 Creating and Developing Blues Bass Lines and Riffs
Video Lessons 1 and 2
If you want to find out how to create and develop your own blues bass lines and riffs, these two videos will provide you with the tools you need to get going ... and beyond!
Renowned online music educator George Urbaszek has created another VIDEO SERIES "Creating and Developing Blues Bass Lines and Riffs" for you to download and get started with your video lessons right away.
You can purchase and download Video Lessons 1 and 2 as a set by clicking the PayPal "Buy Now" button below.
What do you get?
You get 43 minutes of solid instruction, including
1. how to develop a foundation bass line for blues
2. how to use turnaround patterns and modify them
3. how to play over the most common blues chords
4. how to create bass lines and riffs - useful for blues, rock, funk etc. - with the minor pentatonic scale
5. how to create and develop your own riffs off the blues scale
6. how to use syncopation to get great feels
7. how to play a blues shuffle .... and much much more! including how to play a funky blues
Yes, these videos will not only show you the RUDIMENTARY TECHNIQUES to enable you to easily create and develop your own lines, riffs, licks and feels, they will also show you how to quickly get beyond the basics and create music you can play with your band, be it blues, rock or funk.
Thanks for giving me first chance to obtain these videos. I watched and played along with most of the examples in both videos, the 16th note stuff was just too fast for me right now. The information and examples are a good foundation of bassic blues lines.
I found a couple of examples that can be used and adapted right away in four or five of the songs we play. The high resolution is a quite nice feature and i am able to tell where you fingers are on the fretboard most of the time.
Thanks again for the quality instruction. I am getting so much more out of your lessons than i was getting with half-hour lessons at the local music store.
Vincent Brazelle
Individually, these videos would sell for $16.95 each. However, you will get these TWO HIGHLY SPECIALIZED VIDEOS - made primarily for blues bass players - as a sequential set for just $22.95. This is over 31% discount off the individual price!
Click on the PayPal Buy Now button (below) to pay $22.95 USD via PayPal. You don't have to have a PayPal account to pay securely online with credit card. Just follow the easy steps provided by PayPal.
Download your bass lesson videos within minutes of completing your payment.
POST-PURCHASE DOWNLOAD INSTRUCTIONS
Once your payment has been processed you will receive an email (sent to your PayPal email address) with your login details (user name, password). If you do not receive this email, please check your spam folder before contacting me for assistance.
BEFORE you click the link in the email to access the download site make sure you DISABLE YOUR POP-UP BLOCKER (If your pop-up blocker is not disabled, your download may not be successful)
BE PATIENT - The download takes approx. 35 minutes due to the high-quality.
DIALUP USERS: Please do not purchase this product if you have a dialup connection - your download will not be successful.
Pay in your local currency PayPal will automatically convert from US dollars to your currency using the exchange rate at the time of your transaction. Your PayPal invoice (which is emailed to you immediately) will display the conversion rate and the amount you pay in your currency.
You do not have to have a PayPal account to pay by credit card using the free and secure services of PayPal.
LATEST NEWS!
You can now get Video Number 3 in this series via this link:
Do you want to learn bass properly, right from the start? Get your full course of bass lessons here:


Bass lessons are supplied by Creative Bass
A division of Creative Avenues, ABN 22 323 614 466
Physical Address: 1/26i Coomburra Cres
Ocean Shores, NSW 2483, Australia
Phone: 011 (from USA) 00 (from Europe and UK) 61266802854
Email: lessons@creativebass.com