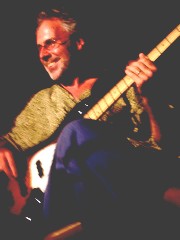 Groove Creation for Bass
is a 16-track MP3 audio file containing the equivalent of at least 6 regular bass lessons.
The lessons are packed with ideas, suggestions, CD excerpts, interactive segments, and heaps of demonstration examples showing you how you can create your own bass grooves.
Groove Creation for Bass provides a wealth of knowledge from bass player and renowned online music educator George Urbaszek. George has over 3500 performances, 130 recording sessions, and 33 years of bass teaching experience.
George guides you and enables you to unlock your own creativity using logical steps. Just look up George on You Tube by typing "beginner bass lessons" in the You Tube search bar to experience his lesson style "first hand".
"Within the first minute listeners will gain valuable new ideas." Australian Musician magazine
Groove Creation for Bass is guaranteed to enhance your musical life! This session will get your "brain-ear" working for you, your music making, and your musical creativity.
Check out these 4 samples of Groove Creation by clicking the descriptions.
I recommend you wear headphones as the bass is DEEP.
Rock Groove with Changing Note Lengths
Click on the PayPal Buy Now button (below) to pay $18.95 USD via PayPal. You don't have to have a PayPal account to pay securely online with credit card. Just follow the easy steps provided by PayPal.
Download your16-track bass lesson MP3 within minutes of completing your payment.
POST-PURCHASE DOWNLOAD INSTRUCTIONS:
Once your payment has been processed you will receive an email with your login details (user name, password). BEFORE you click the link in the email to access the download site make sure you DISABLE YOUR POP-UP BLOCKER (If your pop-up blocker is not disabled, your download may not be successful) WINDOWS USERS - Set your Security Level to LOW when downloading your file.
Pay in your local currency. PayPal will automatically convert from US dollars to your currency using the exchange rate at the time of your transaction. Your PayPal invoice (which is emailed to you immediately) will display the conversion rate and the amount you pay in your currency.
You do not have to have a PayPal account to pay by credit card using the free and secure services of PayPal.
Do you want to learn bass properly, right from the start? Get your full course of bass lessons here:
Bass lessons are supplied by Creative Bass
A division of Creative Avenues, ABN 22 323 614 466
Physical Address: 1/26i Coomburra Cres
Ocean Shores, NSW 2483, Australia
Phone: 011 (from USA) 00 (from Europe and UK) 61266802854
Email: lessons@creativebass.com